Welcome back! Today happens to be Release Day over at Rubbernecker Stamps and I've used bunches of the new products for this month's Christmas Cards!
I used some panels I made with my Gel Press, the Snowflake Stencil and Color Fuse inks. I used some purples and blue greens mostly too because I seem to be drawn to this color combo these days!
For this one, I used the adorable new Cute Snowmen stamp set. I created a simple scene on the Nested Loops die cut and popped the whole thing up over the inky background.
And finally that cute sentiment from the set... aren't they too cute??
These are the colors I used for this one, and the purples and blues were the same ones I used for all of my cards today. I didn't photograph the colors for the rest of the cards because there were so many...lol! But these were the main ones.
For these two I used the new Build A Gnome stamp set as well as the new word dies! I LOVE these word dies! Love the font... love that the shadow die is not huge and just leaves a thin border around the word. There is a whole new set of these and this month's prize consists of some of the new word dies! Rubbernecker Stamps was so generous and sent me a set to give away along with this month (for June's Winner) and next month's (for July's Winner) Happy Mail!
These gnomes are so adorable! There is an extra set of hand/mitten images so you can pop them up over the top to hold the accessories... I'm sure these guys will be holding a coffee cup at some point!
On this background I applied a layer of Transfer Gel Duo over the snowflakes using the Wavy stencil which dries clear. And then I ran it through my Minc with some Magical Shattered Glass and it left such a beautiful sparkly shimmer!
This background I left as the straight watercolor snowflake background it was ... it was so light and pretty I decided it was jut right as it was. I had the tree in my stash so I added it too.
This one might be my favorite new stamp set! Don't you just love this image... and I love that the girl, dog and cat are all separate so I can use any combination of them I want to! Of course for my first card, I used all of them.
I created a sunset with strokes of Copic markers and of course dressed her in purple and blue green and
decided these three would be looking out the window at a beautiful sunrise on a cold Christmas morning.
I stamped and cut out all of my pieces. I stamped the curtain on printed paper and fussy cut it out and adhered it over the stamped area. I thought plaid was perfect.
That's me for today! Hope you enjoyed your visit and be sure to check out what Debra has created for today and all of the new stuff in the shop! Michael is taking a break this month so the hop is just two quick stops this month! Before you go let's see who is the winner from last month's Crafty Elves post!
Send me your Snail Mail at bzscrapper66 at gmail dot com so I can get your prize out in the mail to you!
Thanks so much to everyone for stopping... thanks for the love... and come again soon!
Below are links to all of the Rubbernecker products I used today. If you decide to purchase using these links I will receive a small compensation at no additional cost to you. And thank you!
Card 4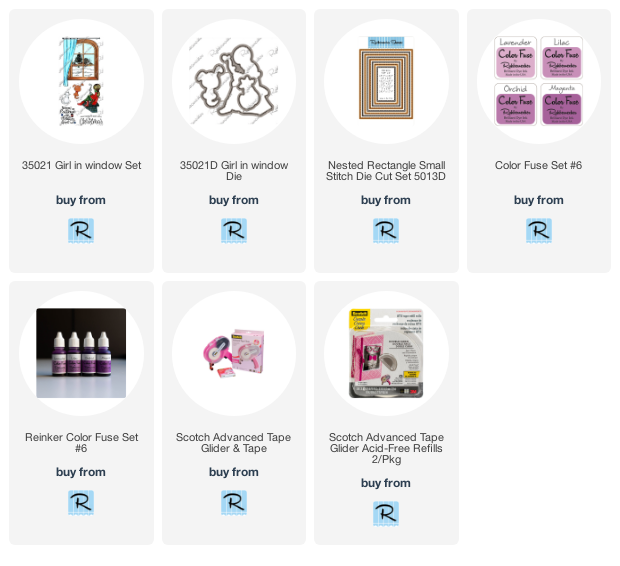 Cards 2 and 3